Facebook Post Ideas for your Language School's Page in the Summer.
11 Giugno 2021
2023-08-07 18:08
Facebook Post Ideas for your Language School's Page in the Summer.
Facebook Post Ideas for your Language School's Page in the Summer.
Summer is coming: have you got exciting post ideas for your school's Facebook page?
It's time to start thinking of summery post ideas for your language school marketing. In other words, your Facebook page (or your Instagram feed) needs to stay active also when the school goes quiet and most staff isn't around. During this period when your students will be on holiday or simply having a break from their English language courses, you must keep them engaged with your language school's page as you want them to think about you when choosing a course in the autumn!
What can I post about?
First of all, you need posts that generate comments so that you can keep the algorithm happy and your visibility going strong. As the name suggests, social networks are meant for us to be "social", and this is the best period to genuinely do that. In other words, avoid ads and commercial posts and focus more on a light-hearted, fun, summery type of content.
Imagine the type of content and the style of content that you would like to see under your beach umbrella or while relaxing in the mountains. That is the style you want on your Facebook page or Instagram account!
But I need a break too!
You deserve a break as well, and to recharge batteries before the school or your freelance activity goes back in full swing so what you need to do is to plan the content and schedule the posts. On your Facebook page, you can schedule posts for a period of up to 10 weeks which is long enough to get you covered for the summer break. (Remember that you can crosspost to Instagram at the same time). Also, over the summer, you don't need to post as often as you do during the school year so you will probably be looking at, ideally, two to three posts a week which can be scheduled on your Facebook page ahead of your own break.
Here are some ideas for summer posts:
1.

Holiday photos or selfies of students
Before courses are over, ask students to WhatsApp photos of their holidays over the summer so that you can share. If you feel like it, you could create a little contest, too! Basically, all those sending photos can take part in a contest for the furthest or most popular destination, best caption, best pose (and fun things of the like!). Why not have a prize too for the winner?. The prize could be a free individual conversation lesson or any other service you feel you can offer when you are all back to school.
Also, when you share those photos invite all your followers to share a pic of their holidays too and show where they are, what they are doing and engage with them!
2. Staff photos on holiday places or in their home country.
If your teachers are happy to share photos of themselves on holiday or back in their country, these can be shared too. It'd be particularly nice if your teachers shared a bit of their own culture so that students could have an insight of the culture of the language they're learning. These photos could be about pets, houses, family, places around town and so on. What's more, these posts are an ideal springboard to some interesting questions in the captions in order to get followers to engage with you.
3.

Summer readin

g list
Relaxing while reading a book is a popular activity over the summer and if students could read in the language they're learning it would be an encouraging experience for them as well as a useful one. Because of this, you might want to select, let's say 10 graded readers, blog articles or magazines ( or a mix of all of those) for students to read and enjoy during their summer break. Create your list and post it on your Facebook page, but first, in order to pave the way towards this post, you might post a picture of yourself reading with a question. Here are some post ideas to inspire you:
What are you reading this summer? Post a picture!
What's the best book you've ever read? Why?
What is a good read for the summer?
Which book would you give as a present to your partner?
Did you know that reading can help you speak English more fluently?
4.

Staff greetings and introductions
As the school year ends, how about asking your teachers to prepare a thirty-second video saying goodbye for the summer? Similarly, if you have new teachers joining your language school, ask them to send you a short video introducing themselves.
5.

Memories & Flashbacks
Everyone enjoys looking back fondly on some of their favourite memories on social media. When you post about things of the past like films, songs, events, trends, childhood photos or anything that takes you back in time you can enjoy an increase in engagement. It has become a popular trend around the globe and these posts usually go with either the #throwbackthursday or #flashbackfriday hashtags.
So…Why not follow this trend? Here are some prompts that will help you with post ideas:
What was your best moment during the year?
Which was your first English coursebook?
Who was your first English language teacher?
What did you do the night before your IELTS exam?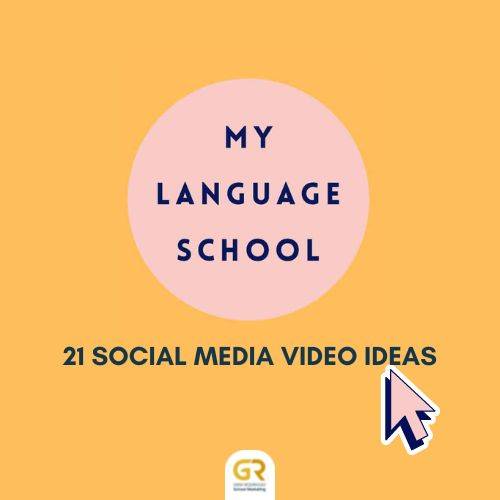 6.

Back-to-school
When the time to re-open the school gets closer it's also time to start with posts that direct students and potential students towards getting in the mood for back-to-school. This is the ideal time to post about changes in the school, renovations sneak peeks, unboxing videos of new resources and why not do a back-to-school countdown?! For more ideas about what to post throughout the year, you may want to read "Generating Post Ideas" and also download the "Generating Post Ideas" pdf with a blueprint ready to use. It will help you with generating post ideas that are unique to you and your language services.
What's next?
So now that you have lots of post ideas for your school's Facebook page this summer, all you need to do is to block some time to create engaging and summery-looking posts (you can use Canva for instance). After that, you will want to schedule them directly on your Facebook page and then you are ready to set off on your well-deserved summer break while your school's Facebook page will continue to maintain your school's visibility high.
If you found this blog post useful, please share.! If you have any questions or if you would like to give me some feedback, feel free to contact me! Happy Hols!