Social Media Post Ideas for Personal Branding: Maximizing Your ELT Conference Experience
12 Marzo 2023
2023-09-20 0:51
Social Media Post Ideas for Personal Branding: Maximizing Your ELT Conference Experience
Social Media Post Ideas for Personal Branding: Maximizing Your ELT Conference Experience
Attending conferences in the ELT sector provides a great opportunity for professional development and networking. It also offers a chance to build up your personal brand, reinforce your authority in the sector, and generate extra visibility for your language services on social media. This article provides social media post ideas to make the most out of conferences for your personal branding on social networks.
It's conference season in the ELT sector and there are several exciting face-to-face (hoooray!) conferences happening such as IATEFL, EAQUALS, and TESOL, among many others across Europe and the UK during this period. Additionally, associations and publishers organize local events in major towns which provide an opportunity to learn about the latest publications and education trends in ELT, network with stakeholders, and meet new colleagues.
Whether you're attending, speaking at, or organizing an ELT conference, using social media is a great way to enhance your visibility and personal branding within the industry, especially on LinkedIn. In fact, with 875 million users worldwide and 17 million users in Italy alone, LinkedIn is an ideal platform for networking, industry news, and personal branding. However, many language schools and ELT professionals still perceive it as a dull corporate social network. This is a misconception as it is actually a vibrant professional social network including ELT publishers, EdTechs, language schools and ELT professionals. If you have doubts about using LinkedIn in your social media strategy, I suggest reading Linkedin for Language School Marketing where I go into detail about the benefits of including it in your strategy.
LinkedIn for Personal Branding in ELT
Like Facebook, you can have a profile and a page on Linkedin. Unlike Facebook, people interact a lot more with profiles whereas Linkedin pages remain like a '"shop window" with little interaction. This is a great opportunity because potential students, employers or collaborators will interact with you directly on your profile and it's easy to build a relationship with them in this way.
On Linkedin, you can share photos, videos, pdfs, links, articles, and newsletters and you can do polls and live streams, too. All these features are great to use in your social media content strategy and help you build your personal brand as an ELT professional (either as a freelancer or school owner). Unfortunately, there are no stories on Linkedin. Stories simply didn't take off and they removed the feature. To do stories you can use the Meta family: Instagram, Facebook, and WhatsApp.
Why LinkedIn for building a personal brand?
As the top professional networking platform, LinkedIn is an essential tool for ELT professionals to build their personal brand and connect with potential students. By following the tips and strategies outlined in this article, "How to Find Students for Business English and ESP Courses on LinkedIn," you'll be well on your way to filling your classes with eager learners. If you are looking to learn how to make the most of your LinkedIn presence and stand out in a crowded market check out my article "Personal Branding for ELT Professionals" in Modern English Teacher Magazine.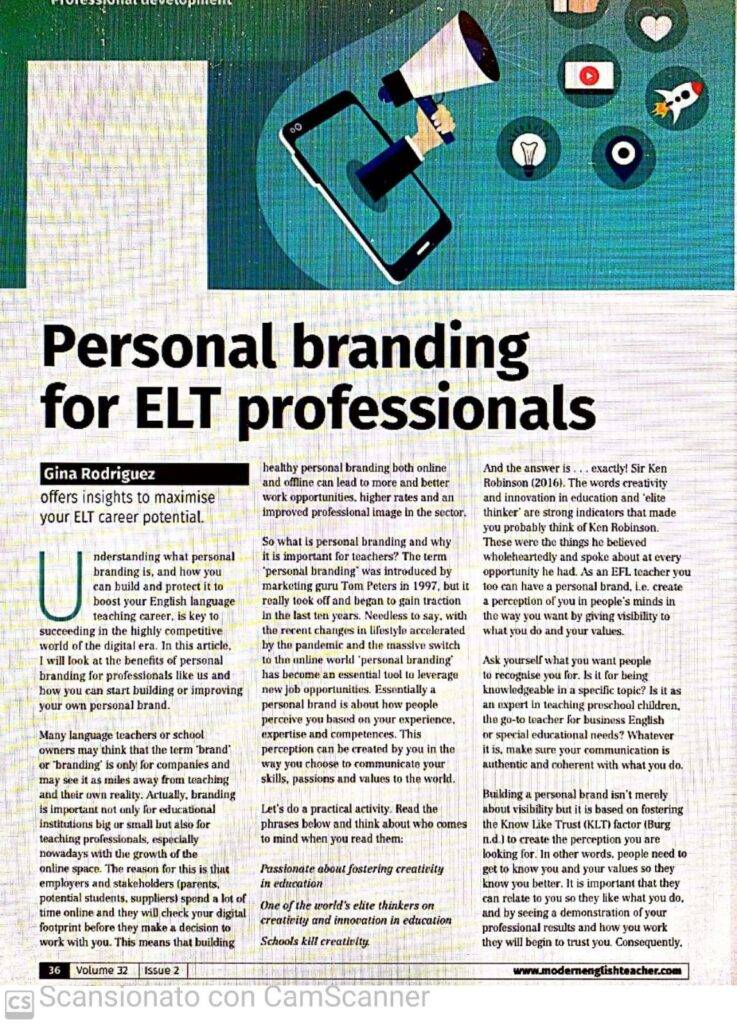 If you are speaking at or attending a conference Linkedin is the social media network to use especially if you want to boost your professional reputation. However, remember you should be where your students and clients are so consider using the social media post ideas below also for other social media platforms.
20+ social media post ideas to maximize your ELT conference experience
This year, I am excited to attend two big conferences. The first one is Didacta, which is the most important education fair in Italy organized by INDIRE, the Italian Ministry of Education's research department. While this is not an ELT conference, it is complementary to ELT as it showcases the latest technologies in education lots of which can be used in the ELT classroom. Additionally, some ELT stakeholders will be taking part, making it a great opportunity to keep abreast of the latest publications and platforms. The second conference I will attend is IATEFL, which takes place in Harrogate from the 18th to the 21st of April, 2023.
With these events in mind, I would like to share 20 social media post ideas to help you make the most out of conferences for your personal branding on Linkedin and other social networks. I will divide the post ideas into three categories: pre-event, during the event, and post-event. Also, you'll find social media post ideas for attendees and for speakers.
Social Media Post Ideas for Attendees of ELT Conferences
Pre-event
1. Check the biodata of the speakers before the event. This will allow you to find out what their primary area of interest is and read their latest articles getting in this way, an idea of the topic they will present. You will be able to follow the presentation better especially if it is about a new topic. Then search for the speakers on Linkedin. This is also a good opportunity to expand your network so make sure you send a connection request saying you'll be at the conference.
2. Look for the conference organization on social media and follow them for conference updates and to start networking with other people commenting on their posts. Make sure you tag the conference organizers every time you will be sharing about the event on social media.
3. Check if the conference has a hashtag and use it in all of your posts. Also, check what posts have the hashtag and what people using the hashtag are saying about the event. You may want to connect or follow them as you clearly have something in common. In this way, you will be increasing your network with like-minded ELT professionals.
4. Stir up some buzz for the conference by announcing your attendance on social media and getting your followers and connections excited. You can do this by re-sharing the conference's post or link to the registration page. Say what you're looking forward to learning from the conference or ask your followers if they are attending it.
6. Do a countdown post. If you are on Instagram why not do a story with a countdown?
7. Post photos of the city or the venue and say which sessions you look forward to attending and why. Make sure you tag the presenters of those sessions and have previously asked them to connect.
During the event
Document your conference experience with video clips to prepare a recap video. Capture various moments throughout the day from your trip to the conference, registration, presentations, and breaks to the sessions and exhibition. The idea is to have several videos of the whole day and also a few selfies and photos to put together in a video on Linkedin or Reel on Instagram. Create your video by joining the various video clips and pair it with trendy audio to give a taste of the event. You will edit and share after the conference but you need to gather video clips during the conference.
Share stories on Instagram or Facebook, where you can talk about the sessions you're attending and what you're learning. Download the story to your phone are post the video on Linkedin.
Create video commentary as you leave sessions, giving your thoughts on what you just heard to share in stories. Stories are backstage so this type of content works well there.
Share the best quotes you heard during the event together with a photo of the speaker
If you talk to presenters ask them if you can video record the chat and share their insights with your followers on Linkedin.
Share a pic of your favourite slide and take it with the CamScanner app for having a sharp and clear photo of it. CamScanner works much better than any phone for pictures of slides in conferences.
Post-event: What to post on social media after an ELT conference?
Create a video recap of the best moments. You can do these by putting together photos and video clips on apps like Inshot or CapCut or even Canva
Share a summary of your main takeaways in a carousel post.
Write a blog post with a summary of the conference and your thoughts on the key themes or trends.
If you are feeling generous why not put all your takeaways in a pdf ready to download? If you have a mailing list this could be a lead magnet
Connect with other attendees and speakers on social media.
Follow up with those you met at the conference through direct message (DM). Make sure you send a personalized message and request to connect on LinkedIn. This is a great way to build your professional network and continue the conversations you started at the event.
What to Post on Social Media if you are a Speaker at an ELT Conference
Pre-event: How do you announce your participation in a conference on social media?
If you are presenting here are some Linkedin post ideas to help you attract attendees to your presentation:
Share a time-lapse video of your preparation for the conference like this one.
Share a slide from your presentation before the conference highlighting the main benefits of attending your session.
If you are comfortable speaking to the camera, then create a video introducing your presentation topic to generate interest and start conversations before the event.
Send the pdf or jpg invite via direct message. Messages are the ideal place to start a conversation with your network.
Create a buzz before the conference by announcing your attendance on social media. Share a photo with a banner that says "I'm a speaker at [conference name]".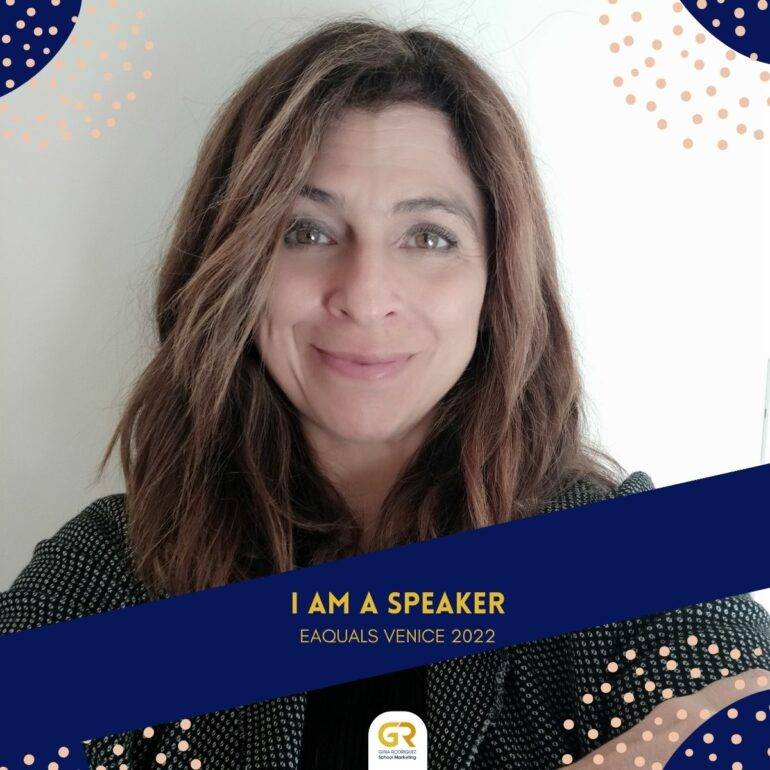 During the Conference: What to post?
Invite attendees to share on social media that they are attending the session and to use your hashtag at the beginning and at the end of the session. Have a slide ready for this.
Give attendees your social media handles and invite them to tag you when they share photos or videos of your presentation.
If attendees come to you with positive feedback after the session, then take the opportunity to video-record them. Afterwards, use the video testimonial on your socials or website.
During the session, make sure you set an automatic reply on WhatsApp Business (it's a free app) saying you are speaking at a conference. Also, upload a status (story) of you at the conference.
Remember you can repurpose your Instagram and Facebook stories on WhatsApp.
Take selfies with your audience to share on social media after the conference.
If you are tagged in attendees' stories, repost the stories with your tag adding a comment and a thank-you message.
After the conference: What to do on social media after an event?
Ask the attendees you connected with on Linkedin to leave you a LinkedIn recommendation for your presentation.
Offer your audience a free resource like a checklist about the topic that will be useful for them and that they can download for free. Post your conference free resource on social media together with the link to download it. This will help you increase your mailing list.
Thank the organizers and sponsors of the conference. Share a post thanking them for the opportunity to attend, and tag them in your social media posts throughout the event. This is a great way to build relationships with potential future collaborators or sponsors.
Do a video recap of the conference to share on Linkedin and other social networks with the main highlights.
Needless to say, share all the photos and videos taken with attendees and colleagues and tag them.
Why post on social media about ELT conferences?
In conclusion, attending conferences is a fantastic way for ELT professionals to grow their network, establish themselves as thought leaders, and boost their reputation in their industry. However, it's not just limited to that! Attending or speaking at ELT conferences offers the additional benefit of generating social media post ideas for personal branding in ELT.
By leveraging social media to its full potential, you can attract potential partners like exam boards, publishers, agents and students interested in the language services you provide. So, attend conferences, network, and use my social media post ideas for boosting your personal branding.
However, if you're struggling to create a social media content strategy that effectively showcases your expertise and helps you stand out, it can be challenging to get the results you want. That's where I come in!
I specialize in helping language schools and ELT professionals develop and implement a content strategy that will help them establish a strong online presence and attract the right students. If you're ready to build your personal brand in ELT, let's chat! You can easily book a discovery call with me through the contact form on my website.